Governance and Compliance
The term compliance refers to the entirety of all measures to be observed that justify the rule-compliant behaviour of a company and its employees with regard to legal requirements and prohibitions. In addition, the conformity of corporate actions with all social guidelines and central values must be ensured. These include, in particular, the observance of human rights and the fight against corruption and bribery.
We are committed to these goals as the Alzchem Group. No employee, job applicant or business partner may be discriminated against or given preferential treatment on the grounds of race or ethnic origin, gender, religion or belief, disability, age or sexual identity. Any kind of harassment is strictly prohibited and will not be tolerated in our company. Values such as human dignity, tolerance and respect are fundamental values of an open, pluralistic society. They are anchored in the German Basic Law and are consequently guidelines for our entrepreneurial thinking and actions as well as our corporate culture.
To achieve these goals, we have established a compliance system that serves to prevent or limit damage, to detect and end violations, and to fulfil legal obligations.
Our company is a signatory to the Code of Conduct of the German Association of Materials Management, Purchasing and Logistics (Bundesverband Materialwirtschaft, Einkauf und Logistik e.V. - BME) and thus undertakes to prevent bribery and to observe ethical principles towards customers, competitors and business partners. All business actions and decisions are to be aligned with the applicable law.
In addition, we implement our own guidelines, which summarise the corporate policy principles and standards. All our employees are familiar with these principles, and appropriate action should be internalised. They provide orientation with regard to the fundamental legal and ethical obligations of Alzchem employees and give them the security they need to behave correctly on the job.
To strengthen the compliance system, we have set up an external whistleblower system ("Whistleblower Hotline") at an external reporting office in addition to the possibility of reporting to the compliance manager. All Alzchem employees as well as third parties, e.g. business partners or customers, are thus able to report legal violations within the company externally and, if desired, anonymously. By using the whistleblower hotline, the whistleblower does not incur any costs and also does not suffer any disadvantages in relation to Alzchem, provided that the whistleblower has not himself violated any laws or, for example, the corporate guidelines. The employees of the external service provider are subject to a duty of confidentiality. They shall treat the identity of the whistleblower and the information provided by him or her confidentially, insofar as this is desired by the whistleblower and legally possible, also in relation to Alzchem. The external service provider as well as Alzchem will follow up the information with due diligence and thoroughly investigate the underlying facts.
The Whistleblower Hotline can be reached at the following address via the online form, by e-mail, by telephone or also in a personal conversation:
Online form (possible both anonymously and with name) at https://alzchem.hinweisgeberexpertemeldeplattform.de/
E-mail: info@hinweisgeberexperte.de
Phone: +49 89 21 52 74 33 (weekdays between 9:00 am and 5:00 pm)
Personal meeting: Please make an appointment by e-mail (info@hinweisgeberexperte.de)
Address "Hinweisgeberexperte.de":
Compliance Beratung + Service GmbH
Maximilianstraße 24
80539 Munich, Germany
Our company firmly believes that the integrity of all actions is an essential prerequisite for sustainably successful business. As a globally active group, the Alzchem Group is subject to numerous national and supranational legal provisions - for example, the regulations, laws and directives of the EU, but also the legal provisions of other countries. All business matters and processes must therefore be designed in such a way that they comply with all applicable laws and other binding regulations in whose area of application Alzchem conducts its business activities. Our employees are prohibited from issuing instructions in the course of their business that deviate from these or from our corporate guidelines.
Consequently, any active or passive bribery or acceptance of advantages, as well as any attempt to do so, is strictly prohibited. Alzchem's actions are intended to avoid even the appearance that employees are seeking to influence their business partners and interlocutors through extraneous means. For this reason, gifts, favours, hospitality or other benefits may only be granted or accepted in the Alzchem Group if they do not exceed the scope of business practices in the region concerned, do not have an unreasonably high value and are within the scope of what is permitted by law or employment law.
The Alzchem Group is committed to fair competition for the benefit of its own customers and its other stakeholders. We also respect the independence of public officials. Therefore, any form of corruption, including so-called acceleration payments, is strictly prohibited at our company. Here, too, the relevant laws and our corporate guidelines form the basis for our anti-corruption regulations.
Alzchem treats all business partners in a legally impeccable and fair manner. Suppliers and service providers are selected by the purchasing organisation in an orderly process according to objective and comprehensible criteria. As far as possible and reasonable, contracts are awarded on the basis of competitive offers. When selecting suppliers, Alzchem ensures that they act in accordance with the principles of the corporate guidelines and compliance rules. Incentives such as performance-related commissions, discounts, price reductions or free deliveries of goods must at all times take into account the various legal regulations. Therefore, business incentives in the Alzchem Group must be documented comprehensively and correctly. To prevent prohibited acts, payment for goods and services is made directly to the respective contractual partner. Payment in cash is prohibited, except in minor cases.
For the rest, we refer to our Corporate Governance Report.
Digitalisation and sustainability
On the way to a sustainable industry and a more sustainable society, digitalisation is an important tool. With digital solutions and technologies, which we are developing in a variety of projects, resources can be used more efficiently, supply chains can be better tracked, energy and time can be saved, and the circular economy can be implemented more consistently. The opportunities and possibilities offered by digitalisation in research and development, in production and along the entire value chain strengthen our innovative power.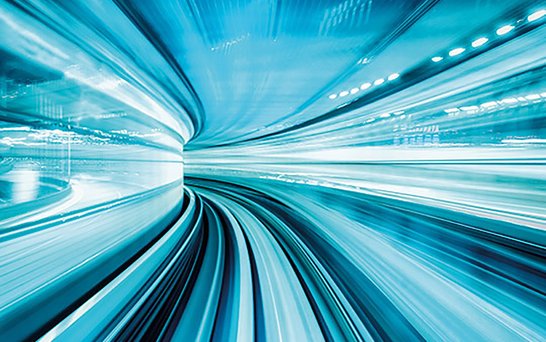 The processing of large amounts of data combined with high computing power (AI, Big Data) opens up optimisation potential and helps in the development of new and sustainable solutions. For example, with the help of descriptive analysis, i.e. by recognising simple patterns with statistical key figures and graphical methods, it was possible to precisely predict the grain size of one of our products. In training, we have completely switched to digital solutions by introducing tablet PCs in order to save paper on the one hand and to increase the effectiveness and efficiency of our trainees and strengthen their IT skills on the other. For example, the recording of measurement data can be done completely via the tablet and also regulations and all documents with notes can be securely stored here. Through the targeted use of digital technologies, we will continue to develop sustainable solutions in the future, further optimise our workflows and make our production processes safer, more efficient and more resource-friendly.
Back to the overview of our sustainable and ethical ESG activit