Things to know about our technology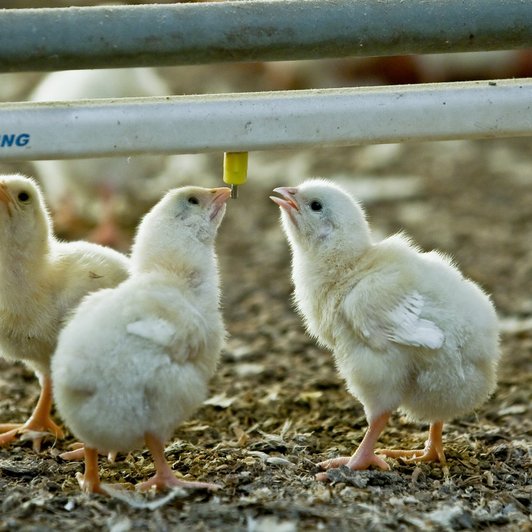 Creatine is a Core Element in the Energy Metabolism of the Cell!
All processes in the body require energy, which have to be produced, stored and made available at all times.
Creatine plays an essential role in the ATD/ADP cycle. It is a biomolecule for the smooth functioning of energy transfer and supply in the cells. An optimal supply of creatine therefore ensures the function of the body's cells and thus promotes not only performance but also the health of the animals.
Although the body produces some creatine endogenously, this process is not sufficient to meet the body's optimal daily requirements. Conventional feeds are also not suitable as a source of creatine.
The supplementation with the guanidinoacetic acid (GAA) contained in Creamino®, which is then completely converted to creatine in the body, increases creatine levels by up to 20-30%. GAA, the direct precursor of creatine in the body, is the only effective way to make creatine available in the feed.
Creatine therefore ensures that sufficient energy is available in the body at all times and in all places. Creatine is therefore of great importance, not least in bodily functions with high energy requirements such as the skeletal, muscle, heart, brain, reproductive and immune cells. The energy efficiency of each individual cell is thus improved - the basis for healthy growth.
Creatine, in the form of phosphocreatine, is a rapidly available cellular energy source. It therefore closes the gap between ATP, which is immediately available but only in small quantities, and the slower energy stores from glycolysis and lipolysis.
A lack of creatine disrupts this regulated process and can lead to undesirable side effects such as acidosis, the fight against which in turn requires energy that is then lacking elsewhere, for example growth.
The concept of "net energy" is closely related to ATP as an energy currency and thus also to creatine as its primary store.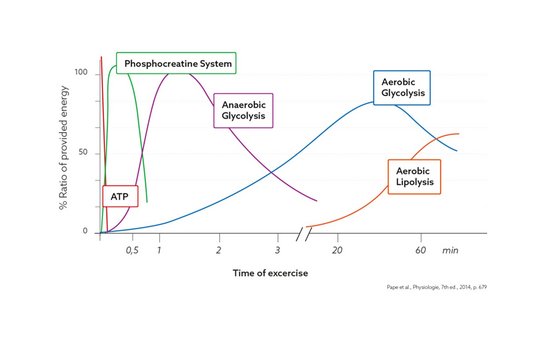 Creamino® Provides Energy for Healthy Growth!
Creamino® was developed by AlzChem to provide animal nutrition with essential creatine in a safe and reliable way.
Creamino® is a proprietary formulation of guanidinoacetic acid (GAA) that can be administered to animals through their feed. GAA is the direct, endogenous precursor of creatine in the organism of all vertebrates.
It is free-flowing, non-hygroscopic, virtually dust-free, and readily resists heat and moisture during pelleting and extrusion.
GAA is the only effective source of creatine. By ingesting Creamino® through feed, the step of GAA synthesis can be skipped, saving resources. Ingredients such as arginine are thus more readily available for other processes ("arginine-sparing"). At the same time, an optimal supply of creatine is ensured.
With Creamino® we supply a unique creatine source that supports many important body functions and provides energy for healthy growth.
Patented by AlzChem, Creamino® is approved in over 60 countries for poultry and other species. Creamino® is produced in Germany under the highest safety and environmental standards. Our production is totally backward integrated, allowing us to control quality throughout all stages.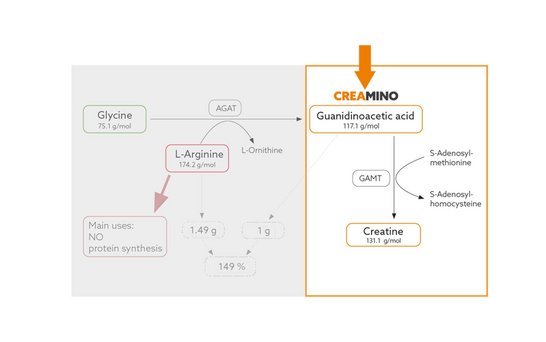 Be a Part of the Next Evolution of Animal Nutrition!
Understanding the need and supply of essential ingredients has become a standard building block in feed formulation. This understanding has revolutionized feed production.
The subsequent evolution of feed production has focused on optimizing feed intake, often summarized by the buzzword "good health."
The next challenge is to ensure optimal energy supply at the cellular level. Creamino® makes an important contribution here, making energy available at the cellular level where it is needed.
Creamino® thus not only helps to increase the commercial profitability of your operation, but also helps to ensure healthy growth in a sustainable way.
The Creamino® concept can therefore be used both to reduce costs and to increase performance.
In either case, however, it helps to increase production efficiency.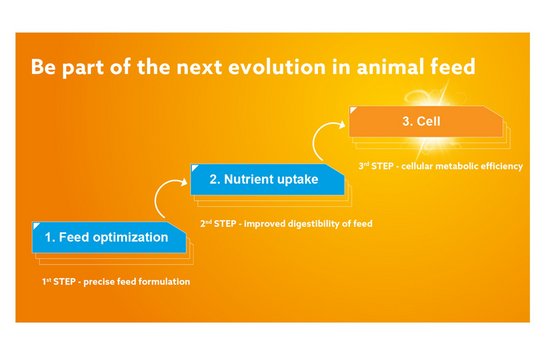 Back to our product Creamino®