Dr. Martin Huber visits Alzchem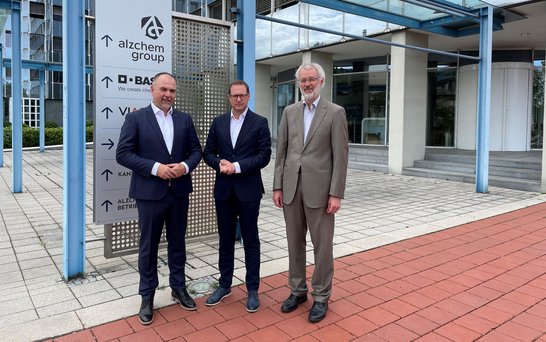 Energy prices and EU requirements for fertilizers, among other things, as massive challenges for the integrated production of Alzchem Group AG
Trostberg - CSU Secretary General Dr. Martin Huber visited Alzchem in Trostberg to get a first-hand impression of the company's most pressing challenges. Alzchem is an important employer in the region and regularly trains future specialists at a far above-average rate. Andreas Niedermaier, CEO of Alzchem Group AG, and CSO Dr. Georg Weichselbaumer introduced the company to Dr. Martin Huber and Marlene Weichselbaumer, constituency advisor to Dr. Peter Ramsauer, member of the German parliament, and explained the potentially far-reaching effects of the two biggest current factors of uncertainty: energy prices and the management of approval processes (ECHA).
"As an energy-intensive company, we feel a particular responsibility to massively reduce our carbon footprint," Niedermaier said. "Our goal is climate neutrality." To this end, he said, numerous measures have already been implemented and the company is well on its way - but it is now having to pay dearly for this commitment: "With the abandonment of fossil fuels, the forecasts for electricity show that more has to be paid per month than previously for the whole year." The increased costs have to be passed on to the trade with large-scale consequences: among other things, in the case of calcium cyanamide fertilizer, which farmers can then no longer afford. This triggers a spiral of falling yields and declining profitability in agriculture. This example is not a pessimistic future scenario, Niedermaier emphasizes. "This is already reality. Alzchem, like all industry, needs a stable affordable calculation basis for electricity - ideally an industrial electricity price as is already common in other European countries."
Added to this is the impending EU ban on the use of calcium cyanamide in agriculture in general. "Such a ban not only demonstrably lacks any basis, it would also have massive negative effects on yields, animal health, soil health and climate-damaging emissions, among other things," Weichselbaumer explains. "Moreover, it would have far-reaching consequences beyond agriculture." After all, carbide, the starting material for Alzchem's Verbund production, and the calcium cyanamide made from it also form the basis for specialty chemicals that are needed as raw materials and precursors in various key industries - for example, in the pharmaceutical and automotive industries. "Our integrated production along the NCN chain is the only one of its kind in Europe," Weichselbaumer says. "If this production network is jeopardized, dependence on Chinese suppliers increases and questions arise about quality standards and assured availability, among several other issues."
Huber paid tribute to the complexity of the Alzchem network and the company's innovative as well as effective product development, highlighting the breadth of areas for which Alzchem products are critical. "Anyone who puts companies like this at risk risks de-industrializing our country," Huber said. "This not only endangers millions of jobs, but also social security and Germany as an industrial location."
Here you can find further information about Alzchem