Perlka® as a guarantee for healthy and strong trees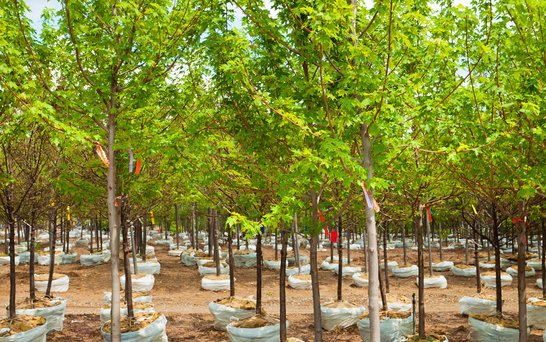 Interview with sales representative Wim Pacolet
Currently the tree nursery sector is doing very well. The reason is that people are giving more and more importance to a greener, more sustainable environment. Landscaping and urban development projects that focus on tree planting also contribute to an increase in general well-being. At GrootGroenPlus - the largest trade fair for the tree nursery sector, which took place in Zundert in the Netherlands at the beginning of October - we interviewed our sales representative Wim Pacolet.
Why is Perlka® a guarantee for healthy and strong trees? What are the advantages of using Perlka® on trees?
Today, everyone is talking about different kinds of fertilizers or biostimulants. They all have one common goal: to provide the best possible nutrition for plants, preferably by strengthening their soil life. The goal to achieve a balanced plant nutrition is exactly what makes Perlka® a versatile fertilizer. Thanks to the slow release of nitrogen and calcium providing sufficient lime to the soil, contributes to a healthy and less acidic soil. This is the basis for healthy growth and, of course, strong trees.
What is the market potential in the new niche market "tree nurseries"?
At first glance, the tree nursery sector seems to be a niche market, but the size of the market is significant: if we look solely at the Benelux region, the area of tree nurseries and ornamental plants in Belgium is about 5,800 hectares and, in the Netherlands, it is a total of 16,900 hectares. There is a good chance that Perlka® will become more famous in this area, since slow-release fertilizers have become more and more popular, especially in container gardening, which means planting trees in plastic pots.
What was your general experience at this year's tree nursery trade fair, Mr. Pacolet?
Let me put it this way: Perlka® is indeed a slow-release fertilizer "avant la lettre". Since it has been on the market for about 113 years, we have proven its quality more than ever. At the fair, it turned out that some tree growers did not know Perlka® yet. That is why we are raising awareness of Perlka® and that is the reason why we are positioning it in the tree nursery sector as well because – A healthy soil means healthy trees!
Here you can find further information about our Product Perlka®