Calcium carbide by Alzchem - the all-rounder in secondary metallurgy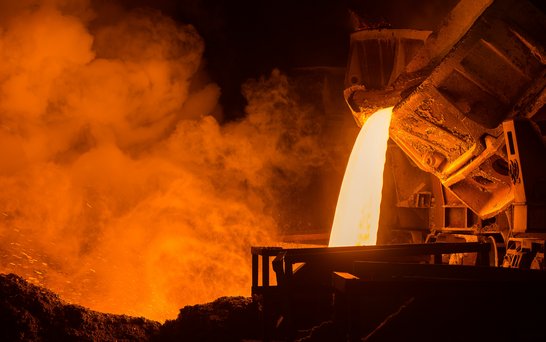 Not all steel is the same: in principle, the versatile and almost ubiquitous metal always consists of iron and a small amount of carbon. Various further accompanying alloying elements significantly influence the material properties. However, there are many processing methods to produce steel from pig iron. What they all have in common is that the very specific quality of the end product is determined by the post-treatment, the so-called secondary metallurgy.
The main focus in secondary metallurgy is to effectively reduce the levels of quality-reducing by-products such as sulfur and oxygen. This is where calcium carbide comes into play: Thanks to its high affinity for oxygen and sulfur, calcium carbide is used as a highly efficient agent in various secondary metallurgy applications. As a strong reducing agent, it is particularly suitable for desulfurization and deoxidation - where low sulfur and oxygen content are specified - of steel, as well as excellent for slag treatment.
For deoxidation and desulfurization, calcium carbide is added as a fine powder; however, for slag treatment, the active ingredient shows its highest efficiency in a coarser form.
The advantages of calcium carbide in secondary metallurgy at a glance:
high potential for cost savings

improved metal purity due to efficient deoxidation and desulfurization

reduced consumption of synthetic slag and other slag formers
recovery of oxidized metals such as chromium, manganese, silicon, iron

rapid reduction of aggressive furnace slag and thus longer service life of refractory materials

minimum sulfur content and high sulfur capacity of the slag
Alzchem offers further products based on calcium carbide. These products are CaD® for desulfurization of pig iron as well as CalciPro®, developed for Calcium-treatment via cored wire. In addition, we have in our product portfolio for the steel industry Calzot®: this product is based on calcium cyanamide and is used for alloying nitrogen.
Here you can find further information about Calcium carbide